About
Software Engineer,
Directorate of Information & Communication Technology (ICT)
2015-Present
Military Institute of Science and Technology (MIST)
Mirpur Cantonment, Dhaka-1216, Bangladesh
Software Engineer, Software Division, Past: Virtual University Expert System(VUES)
Lecturer, Faculty of Science & Information Technology (FSIT)
2012-2015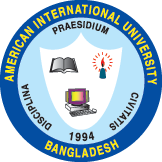 American International University-Bangladesh (AIUB)
Dhaka-1213, Bangladesh
Experience
2015 to-date,       ICT Directorate, Military Institute of Science and Technology (MIST),     Mirpur Cantonment, Dhaka-1216, Bangladesh
Software Engineer      ict.mist.ac.bd                                            mist.ac.bd
2012 – 2015,        Software Division,  Past: Virtual University Expert System(VUES)American International University-Bangladesh (AIUB),     Banani, Dhaka-1213, Bangladesh
Software Engineer      www.vues.aiub.edu                                            www.aiub.edu
Developing various Application on Web and Smart Client based solution for complete automation in .NET platform.
Developed .NET web and desktop application a Car Rental System (CRS). www.sayyaronline.com is an online and offline mode complete system including full-featured accounting, HRM, workshop, inventory and ecommerce.
 
 
2013 Oct to-date,          Contractual              Data Soft Solutions (M) SDN BHD, MalaysiaContract Developer    www.datasoft.my                           www.datasoft-solutions.com

Dynamic form, module and content builder online and offline ERP solution. http://tngbd.net is a complete ASP.NET CMS and ERP solution to reduce code for thousands of custom form data entry.

Design Software Architecture, Database Architecture and Physical Deployment architecture.

Ensure scalability, reliability, availability and performance of the production and partner websites.

 
2013 Sept to 2013 Dec,   Contractual                Object Studios, San Francisco, CA 94107Contract Developer                                                                www.objectstudios.com

pDeveloping module and fixing error on C# .NET, MVC, WCF, ENTITY FRAMEWORK, MS SQL, REST, JSON, SOAP, HTML5, CSS3, JQUERY, ECOMMERCE, Team Foundation Server(TFS) to fulfill requirement.

 
2012 Jun to 2013 Aug,      Part-Time & Internship                                Software DivisionAmerican International University-Bangladesh (AIUB)    Banani, Dhaka-1213, Bangladesh

Programmer (Student Assistant)      www.vues.aiub.edu                    www.aiub.edu

Developed web based project management software : simple scrum tool. www.scrumslate.com is simple, lightweight, flexibility, and automated.

Developed .NET web and desktop application a Car Rental System (CRS). www.sayyaronline.com is an online and offline mode complete system including full-featured accounting, HRM, workshop, inventory and ecommerce.
Education
American International University-Bangladesh (AIUB),        Dhaka, BangladeshBachelor of Science in Computer Science and Engineering (CSE)              Credits: 148              Session: 2010-2013

Cambrian College, Dhaka

Session: 2007-2008     HSC (Science)                   Passing Year: 2009

Sakhipur Secondary School, Debhata, Satkhira

Session: 2005-2006     SSC (Science)       Passing Year: 2007
ProgrammingLanguage &

Patterns

Object Oriented Design and Development using Microsoft .NET Technologies, C#, ASP.NET 2.0/3.5/4.0/4.5, VB.NET, WinForm, WPF, WCF, Silverlight, Web Services, .NET Framework 3.5/4/4.5, RIC Services, Azure,
HTML, CSS, XML, SOAP, XSLT, DHTML, AJAX, JavaScript (JQuery and AngularJS), Crystal Reports, JSON.
JAVA (Basic concepts, Swing and Android)
PHP (Basic Concepts and MVC)
WordPress theme and plugin development.
N-tier architecture, MVC, MVP, MVVM coding patterns.
Project Management, Software Management and Business Developed.

Database

ADO.NET, LINQ, ODBC Entity Framework, Database Design, SQL, PL/SQL, Stored Procedures.
Microsoft SQL Server Database
MyLittleAdmin Database
MySQL or PHP Admin
SQLite Database
Oracle Database

DevelopmentTools and  Others

Microsoft Visual Studio 2005/2008/2010/2012/2013, MSDN
NuGet Package Manager, Web Essentials
Telerik Controls (WPF, ASP.NET and Reporting), Dev-Express,
ReSharper, Code smith, .NET Reflector
SVN, AnkhSVN, Visual SVN Server Visual SVN Git, Team Foundation Server (TFS)
Microsoft SQL Server Management Studio 2005/2008/2012
IIS Server, Microsoft Web Matrix, Xamp Server, Wamp Server, FileZilla
Android Studio, Eclipse, Netbeans, Scintilla
IIS, VMware Workstation, TeamViewer, Adobe Photo Shop and Illustrator

Operating System

Microsoft Windows XP/NT/2000/2003/Vista/7/8/8.1
Linux (Ubuntu)
Android
All my projects and summary
Project Name
Medium
Summary
 Scrum Slate (Simple Scrum)

(On-going for next version)

.NET, MVC,

NHibernet,

MSQL 2012

Cloud based Software Development and Project Management Tool of Scrum Methodology for agile teams. Fully responsive, simple, automated, open and lightweight solution.

 Fit For Life

(A Health Club and Restaurant Management System)

.NET, WPF, C#, MVP,

net-tires, MSQL 2008

WPF desktop and Web based application, Fit For Life is a chain health clubs, each with two sections: EXERCISE Section and BEAUTY Club. People can join the club as FULL TIME MEMBERS or PART TIME. Full Members are allowed to EXERCISE [GYM & SWIMMING POOL] at any times. Part time members can access a particular time.
 www.vestisimport.com

Vestis Import, Sweden

WordPress,

MySQL

Professional multi-lingual business website in WordPress (CMS) with Custom Theme for international import and export business.

 Electricity Management System (EMS)

 

C#, WinForm,

MSQL 2008

A desktop based software, Electricity distribution Management System (EMS) is designed & developed for a goal to fulfill the public demand by using our limited resources or production of electricity. This project will deal with features such as customer management, Billing system, load-shedding, supply, demand, production system loss of electricity area based.
Handyman Tool Hire Assistanththa.codeplex.com
Visual Basic,

MSQL 2008

Cloud based Software Development and Project Management Tool of Scrum Methodology for agile teams. Fully responsive, simple, automated, open and lightweight solution.

 AIUB Computer Club (ACC) custom application
C#, WinForm,

Entity-Framework,

MSQL 2012

Custom application based on requirement for multi-lingual user interface, member registration form, Microsoft Excel file to database converter and report generator.
 Crime Buster

 

C#, WinForm,

MSQL 2008

A desktop based software that stored the crime repot and criminal. Its helps to identify the criminal by their suspect information. Also entry the new criminal.
 Solitaire Card Game
C#, WinForm,

MSQL 2008

This is simple Solitaire game on desktop based gamming application
 Simple

 

PHP, AJAX,

JavaScript

A cricket Live score website. (trying on class project)
 Point Of Sale (POS)

 

Java
Point of sale is desktop based java software, which is used in any shop and inventory like computer & instrument sales management system.
 Educational Institute Management System (EIMS)

(On-going)

.NET, n-tires,

MSQL 2008

A web based development where all students can show their basic information, class, credit, CGPA etc. And Teacher can show and edit student CGPA, course, lecture notes etc.
Skills
.NETMost of my recent developments are in .NET platform including ASP.NET, razor, MVC, AJAX, Smart Clients, XML Web services, WCF and Service Oriented Architecture (SOA) implementation.

Software Architecture

My key role has been to develop software and physical deployment architecture for all of my projects. I am well experienced in implementing design patterns in real life scenarios and gained enough experience in their practical merits and demerits through real life implementations. Adept in object-oriented programming, develop UML diagrams including Use Case diagrams, Class diagrams and interaction diagrams.

IT Industry Involvement

I have experience in the IT Industry, involved in complete Agile Software Development Life Cycle (SDLC) including requirements analysis, design, development, implementation, testing, instigation, deployment, documentation and maintenance of Web applications.

IT & Security Expertise

I have real world experience in maintaining full proof secure Windows Server with IIS, Linux Server, DNS, FTP, SQL Server and MySQL Server on public network under constant attack.

Software Testing

I have done extensive research on Usability Testing of web solutions and have implemented them in my recent web projects with great success. Automated testing, unit testing using NUnit, system and integration testing and QA are also my key interest areas. I am experienced in implementing source control using Subversion, Git and Microsoft Team Foundation Server (TFS).

System Analysis and Design

I have taken participation in several system analysis and design contests which have helped me develop a sound background in an application requirement analysis and architectural design.

Program Management Skills

I have developed technical specs for most of my foreign projects. Developing functional specs, project timeline and "making it happen in time" are also my key skills.

Technical Interview

From my experience, I have taken many interviews for recruiting entry level programmers for software development firm and IT company.

Business Communication

I have to maintain communication with my clients at Internationally for my projects. I have the skill to effectively collect requirements from clients and pass them to the developers till successful implementations and finally returning customers exactly what they want.

Design Skills

I have designed user interface for desktop solutions and also web projects following user interface guidelines from very well-known User Experience Experts. I have extensive skill in Adobe Photoshop.

Awards
Nominate for Best Thesis Award, B.Sc. in Computer Science and Engineering, 2014I have nominated one of the group of two for the best thesis award for my project and thesis on Automated Project Management Software : Scrum Tool, Simple Scrum.  Source code hosted: simplescrum.codeplex.com (open source) and website live on hosted: www.scrulslate.com

Best Competitor, System Design Competition, AIUB CS FEST, 2012

I achieved the Best Competitor award in the American International University-Bangladesh (AIUB) Computer Science Festival 2012, System Design Contest arranged by AIUB Computer Club.

Full Scholarship, Cambrian College Scholarship, 2007

I achieved the place in Cambrian College Scholarship Exam-2007 in Cambrian College Dhaka.

Publication
Project and Thesis ArticlesI have been writing our project and thesis book "Automated Project Management Software: Scrum Tool", Simple Scrum for applying various national & international journals and publications.

Certification
 Microsoft Virtual Academy (MVA), Platinum                                                2013

Bangladesh Ranking: #1

MVA World Ranking : #120

MVA Points : 13504

Tech Elite Asia, IT Professional (First Position)   www.jointhetechelite.asia         2013

CISCO IT Essential V4.1 : PC Hardware and Software                                 2010

The IT Essentials provides an introduction to the computer hardware and software skills needed to help meet the growing demand for entry-level information and communication technology (ICT) professionals.

 

CISCO Networking CCNA 1,2,3,4 Practice Exam                                         2012

Primary Health Care and Community Development                                     2004

Training and Workshop by Bangladesh Scouts and Local Initiatives Program (LIP)

Membership
Volunteer For Bangladesh, Shouharder Bangladesh, Member            2009-datewww.volunteerforbangladesh.org

Cambrian College Alumni Association, Ex-Student                              2009-date

AIUB Computer Club, Founder Member                                                2010-2013

AIUB Volunteers Union, Member                                                         2010-2013

British Council Resource Center, Open Lerner Member   MDC93662      2010-2011

FM English Conversion Club, Member    ID:200230009   CN:CE00         2009-2013

LEO Club of Cambrian College, Membership Chairperson                       2007-2009

LIONS Club, Dhaka Imperial A-52.

Debhata Upazila Scout, Scout Petrol Leader                                         2004-2007

Sakhipur High School Scout, Scout Petrol Leader                                 2001-2007

Sakhipur High School Handball team, Captain                                    2001-2007

Biography
Date Of Birth: May 24, 1992                 Sex: MaleBirth Place: Dhaka city                          Relation: Single

Nationality: Bangladeshi by birth          Religion: Islam (Sunni)

 

Interest
Travelling Historical and Traditional place; Creative Thinking; New Technology; Watching documentary, action and science-fiction Movies, Old Photo collecting.